Our website is open for orders from February 1 to April 30, or until sold out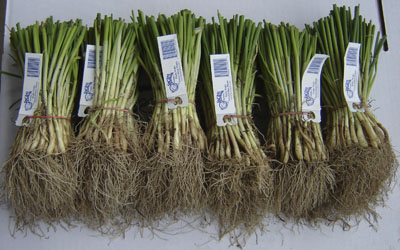 Walla Walla Sweet Onion plants are usually ready each year about the end of February or the first of March. The plants look extremely healthy and the supply this year should be sufficient to fill your needs.
Plants will be packed 30 bunches to the carton with approximately 60 to 80 plants per bunch. Each bunch includes a tag with UPC coding and planting instructions.
Planting Instructions: When the seedlings have grown to 4 inches in height, they can then be carefully lifted from the flats and transplanted to their permanent places. Soil should be cultivated carefully and all uneven clods, stones and roughage removed to allow for easy transplanting. Soil should have a liberal amount of lime to help in aeration. A fertilizer such as 5-10-5 plus well rotted manure should help to produce a satisfactory crop.
As with other transplants, care should be taken so as not to damage the tender plant roots.
Since an onion seedling does not have much of an enlargement at the base of the stem, it is important to make sure most of the white stem end is planted along with the roots. Actual depth will of course depend on the length of the roots. Some may need to be planted 1-1/2 inches, others perhaps 2 or more inches deep. The transplants should stand at least 2-3 inches apart.
Tip
If you planted in rows, pull up small onions when they reach 4 inches tall so that there is one onion for every 6 inches of row space. Use the thinned onions for green onions.